WORLD KINDNESS DAY - 13 NOVEMBER 2010
PRESENTATION OF KIND KIDS AWARDS BY
LADY PROVOST OF THE CITY OF EDINBURGH, MRS ELIZABETH GRUBB
Everyone had a fun time at our kindness celebrations with 100 people there – the children receiving their individual awards and those who had carried out joint projects. The morning kicked off with Fischy Music getting us all to leap about, then we heard details of the children's wonderful nominations.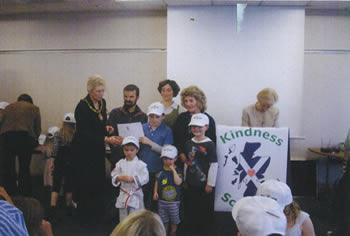 LINLITHGOW PRIMARY SCHOOL
2 sisters raised a huge sum for Cancer Research and have successfully overcome sadness in their own lives.
HERMITAGE PARK PRIMARY SCHOOL
An amazing your boy who had been very ill, decided to be sponsored through his ordeal of treatment, raised a wonderful sum and donated it to help the victims of the Haiti earthquake.
BLACKHALL ST COLUMBA'S CHURCH
One of their project groups raised money for the Erskine Home in Edinburgh for ex-Service men and women in Edinburgh and east Scotland.
DAVIDSON'S MAINS PRIMARY SCHOOL
4 pupils who are particularly kind to fellow pupils were nominated, and also a group who took part in a city-wide recycling challenge and won £200 for their school.
ST JOHN THE BAPTIST PRIMARY SCHOOL
A child who is kindness itself was nominated because of her help given to a fellow pupil.
PINKIE ST PETER'S PRIMARY SCHOOL
One of their pupils persuaded 3 of his friends (all beginner swimmers) to do a sponsored swim and they raised an amazing amount for relief work following the Haiti earthquake
SCIENNES 'FAMILY'
Sciennes School and their local community sent a lorry-load of clothes etc to Lahore, Pakistan to help victims of the devastating floods.
STONEYBURN PRIMARY SCHOOL
Pupils took part in an amazing environmental clean-up of their area. The school has 3 ECO flags and is very committed to their Eco work.
WINDYGOUL PRIMARY SCHOOL, TRANENT
3 children were nominated for their particular kindness shown to fellow pupils and their families

NEWHILL PRIMARY SCHOOL, PERTHSHIRE
Amazing fundraising to help the RNLI
CHILDREN UNABLE TO ATTEND WORLD KINDNESS DAY AWARDS
GREENRIGG PRIMARY SCHOOL, HARTHILL
1 pupil nominated for her outstanding kindness to others
CARMYLE PRIMARY SCHOOL, GLASGOW

13 children were nominated for individual Kind Kids Awards – ALL of them outstanding kind and caring children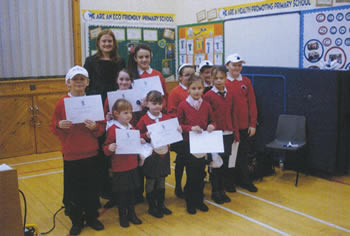 ST ANDREW'S RC HIGH SCHOOL, KIRKCALDY

These excellent secondary pupils were not able to attend the World Kindness Day presentations in Edinburgh so Margery Bruce delivered their awards to them at their school. The first lad is an invaluable helpmate for his family particularly for his mother who is disabled and needs a great deal of care. His outstanding contribution to family life was highlighted by his teachers who nominated him for this award.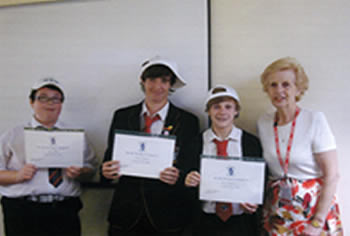 Two pupils who are cousins and have a great relationship, were very aware that there was no park or play area where they could meet their friends for football or other out of school sports, so applied to their local Council and received permission to prepare a detailed plan (listing costings of development work and provision of equipment) of the sort of facility they would like to have. They have won grants for the work which is due to start soon but the initiative and courage these boys showed, gaining the support of family, friends and the school, earned them this nomination.
ANCRUM PRIMARY SCHOOL (near Jedburgh)

Margery Bruce visited pupils who had been unable to come to Edinburgh on 13 November. They have an outstanding record in environmental projects having achieved their 2nd Eco Schools Green Flag and now working towards their 3rd. Keep up the good work.